In recognition of the essential restrictions and measures imposed by the Scottish and UK Governments, we have closed all sites, depots and offices, including the HES Archives and Library, with immediate effect. Read our latest statement on Coronavirus (COVID-19).
Field notebook, V G Childe, RCAHMS
WP 004734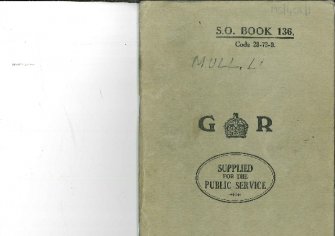 Description Field notebook, V G Childe, RCAHMS
Date 23/6/1943 to 17/7/1943
Collection RCAHMS
Catalogue Number WP 004734
Category Digital Files (Non-image)
Copy of MS 401/1
Scope and Content Field notebook by Vere Gordon Childe (RCAHMS) relating to sites on Mull, Lismore, and others, containing sketches, notes and photographic lists.
Permalink http://canmore.org.uk/collection/1581521
File Format (PDF) Adobe Acrobat document