Essential maintenance
HES is currently undertaking essential maintenance on our web services. This will limit access to services in the following ways:
- Subscription access for HES online services will be unavailable (Scran, NCAP)
 - Image purchasing options will be limited (Canmore, Britain from Above, Scran, NCAP)
 - Any enhanced services which require a log in will be unavailable (My Canmore, Britain from Above contributions, Scran contribute)
 General access to these services will all continue. Enquiries will still be able to be submitted.
 We anticipate services to be restored from Monday 1st February 2021.
Field notebook, V G Childe, RCAHMS
WP 004735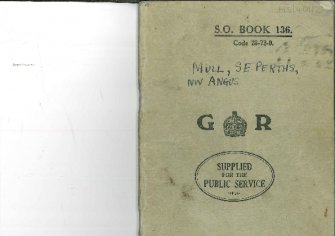 Description Field notebook, V G Childe, RCAHMS
Date 1942 to 1943
Collection RCAHMS
Catalogue Number WP 004735
Category Digital Files (Non-image)
Copy of MS 401/2
Scope and Content Field notebook by Vere Gordon Childe, with a few notes by Angus Graham, relating to sites in South-East Perthshire, North-West Angus and Mull. Part of the RCAHMS Emergency Survey 1942-3.
External Reference Emergency Survey
Permalink http://canmore.org.uk/collection/1581522
File Format (PDF) Adobe Acrobat document