The area of Laig comprises the fertile farmland on the north western side of Eigg. The landscape rises in a series of terraces from the shore, which are overlain by some later field boundaries. There is also a post-medieval "knocking stone" nearby which would have been used as a rudimentary pestle and mortar.
However, the most interesting part of this landscape can be found to the SW of the bay, and although difficult to spot, it is well worth a visit. This is the square cairn cemetery.
The square cairns are built across the cobbled ridges of the terraces, and appear to be in three main groups – a southern, an eastern, and a western - and number at least 16 cairns in total.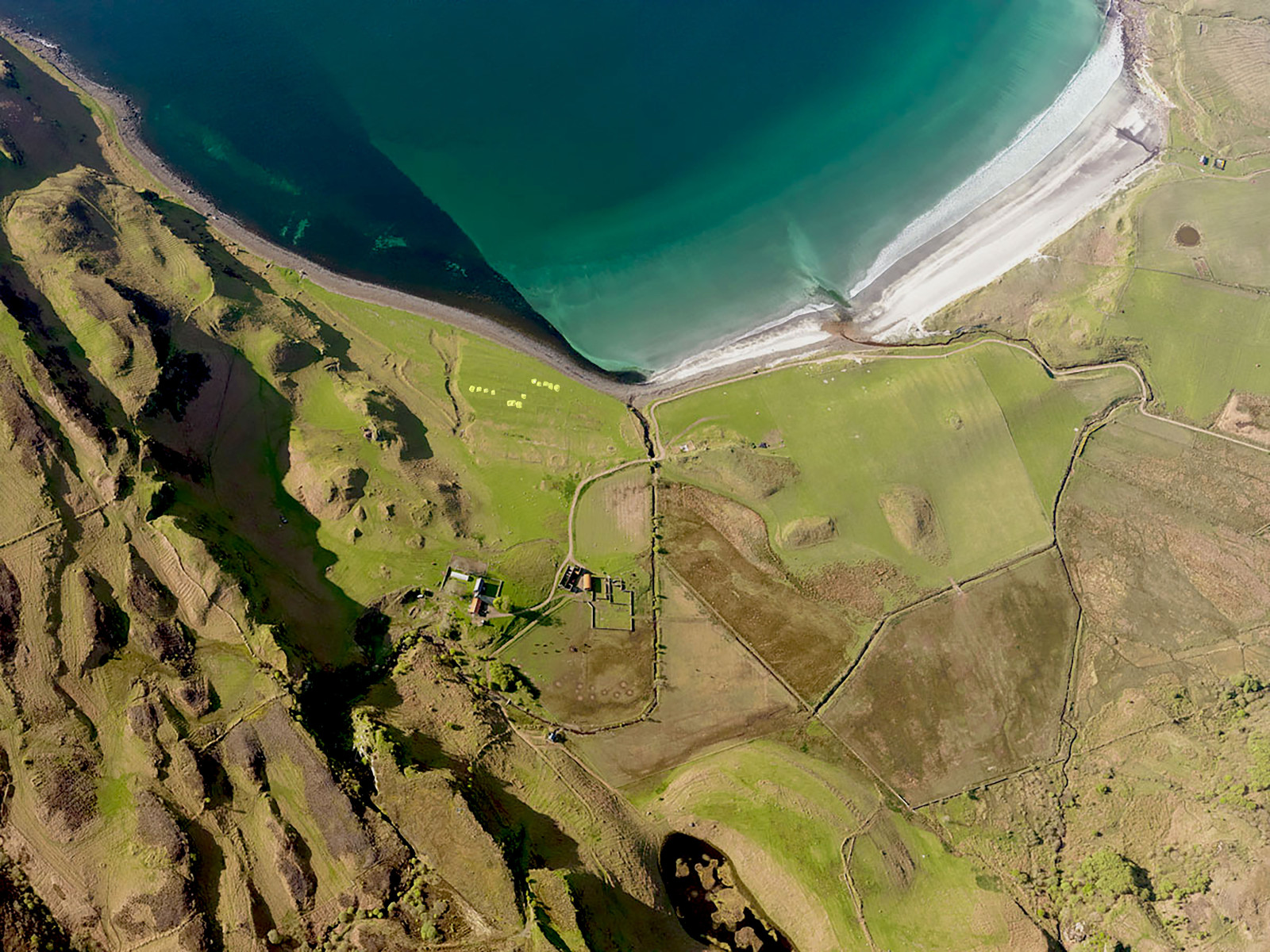 All of the groups share similar characteristics:
Each structure is a grassy cairn measuring between 2 and 4 m in diameter.
Most are bordered in part by stone kerbs, and some appear to feature upright corner stones.
Nearly all appear to have depressed centres, perhaps because their interiors have robbed or excavated.
What can these features tell us?
Firstly, we can say with some certainty that these cairns are rather ancient as they have been disturbed. The presence of hollows suggests that they have been robbed of their contents for treasure, without little to no guilt over disturbing the graves.
Their grouping and arrangement also suggests that they are significant structures, but so too does their location. They sit raised above the shoreline, with stunning views of Rum, and this placement suggests that the spot was deliberately chosen.
From these characteristics we can venture both a period and purpose for these cairns. Comparable examples indicate that they are places of burial dating from around 700 AD, one well known example being a solitary cairn in Cille Pheadair, South Uist, that bears close resemblance to those on Eigg. This cairn comprised a layer of cobbles lying over slabs covering a stone-lined grave, which contained the skeleton of a woman aged about 40.
Who built these square cairns is more difficult to say definitively however, but as a form they are most often found in the Pictish kingdom in the north-east. The cemetery at Garbeg near Inverness not only features cairns with very similar characteristics to those on Eigg, but also yielded a Pictish symbol stone during excavation in 1974.
In addition, there is other evidence of a Pictish influence on Eigg; a sculptured stone discovered in the ruined church of Kildonnan bears a definitively Pictish hunting scene on one side. Few characteristically Pictish artefacts have been unearthed in the Hebrides however, and it has been argued by some that the area was more Irish in culture.
So whilst these cairns have the characteristics of Pictish ones, it is possible that they were constructed by a different society, but some 1300 years later we cannot say for certain either way. Regardless, they remain a very unusual feature in the archaeological landscape of the west of Scotland.